BLOCKBUSTERS AREA
enjoy in MIC filmmakers frontnight
Soon on this page I shell put some fresh streaming videos of mine in order to present you that side of my work. Until than you can enjoy in hot blockbusters from Multimedia innovation center where I edit my videos every time. I like video many things like documentary, films, tourist attractions, Sea, sand, dessert. Generally Nature people and city life. I prefer non linear editing and in recent time period I am learning some new things from that area. I am interested in innovation technologies, reporting, production and everything that is connected with TV and media.
Part of web site featuring blockbusters made by me (including "Polyu life" and "Japan" videos)
Get right in the middle in MIC filmmakers frontnighit. Watch interesting, artistic and funny
videos.

Fun Station page of MIC with interesting animations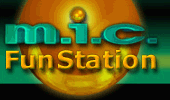 MIC facilities and students. That is the place I learned more about camerawork, production and editing.