PROFESSIONAL

Quotes:
"I encounter communication as the most important asset of humans. Not only that we can achieve basic understanding between ourselves throughout movements, gestures and speech but also we can exchange emotions, values and beliefs."

"Media rule the world."

"Only if you give yourself, you can get something out of work"

Introduction: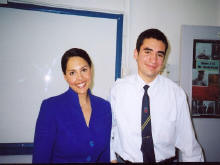 My areas are media, broadcasting, journalism, marketing, acting, management, politics, and communication. I have a lot of experience in those fields. I try to sharpen my skills every day by investing time and money into it.
My works were published with some of the most respected newspapers including Hong Kong's South China Morning Post and Lighter shade of green, magazines including Hong Kong's Dim Sum, televisions including Serbian Pink TV and Hong Kong's TVB Pearl and many others. Here you will be able to see just a short chronological list of the latest works.
| | | |
| --- | --- | --- |
| No. | Things I do | in other words |
| 01 | Writing articles for newspapers and magazines | Journalism |
| 02 | Being a talk show host or news presenter | "TV hosting" |
| 03 | Making documentary movies | D. Film making |
| 04 | Video processing and editing | Production |
| 05 | Reporting | Broadcasting |
| 06 | Management and organization | Leadership |
| 07 | Counseling | Advising |
| 08 | Making adds and commercials | Marketing |
| 09 | Making web sites | Web design |
| 10 | Orating in front of the big crowds and writing political acts | Politics |
| 11 | PR for different kind of companies | Public Relation officer |
| 12 | Being an actor | Acting |

Achievements/works/experience:
Chronological list of the latest works
September 3rd, 2002- My new documentary video was broadcasted on Pink TV. The new documentary video was filmed in Hawaii. It is about Hawaiian Hula dance. Pink TV is the most popular TV network in the country and the region of south Europe. The authorized work was shown in the morning talk show "Nesto drugacije" (something different) featuring talk show host Mr. Ognjen.

June 15th, 2002- New Issue of the Lighter shade of green magazine is published. My articles:

June 15th, 2002- Bojic, Ljubisa, Anjeli Rao of Star World makes fantastic atmosphere, A Lighter Side of Green, June 2002, 3-4.

June 15th, 2002- Bojic, Ljubisa, Comunication and public speaking: How to deliver an effective speech or a presentation, a Lighter Side of Green, June 2002, 6-7.

May 30th, 2002- I have received a MVP (Most Valuable Participant) medal of the Student Newspaper Club for the year of 2001-2002.

May 25th, 2002- My article about media reports got published with the South China Morning Post in the reader's comments section. The "SCMP"- world-famous paper stands as the most reliable source of information for the region of South East Asia.

May 15th, 2002- I have got a task to write for the Sport section of the South China Morning Post's Young Post. Editor of the sport section Mr. Powell wants me to focus on Hong Kong's elite tennis team.

May 10th, 2002- I have completed counseling course of the Kelly support group. Thus I can officially provide counseling services.

May 5th, 2002- I got one of the main roles in a play "The blood of my toga" that was performed on a stage in Tai Koo, Hong Kong. The comedy was performed after about a month of rehearsals. I received many compliments for my acting.

April 10th, 2002- I arranged and organized presentation of Ms. Anjeli Rao who is news presenter and journalist of Asia's most popular television- Star World TV. The presentation was great success and was about influence of media on politics.

April 5th, 2002- New Issue of the Dim Sum magazine for April is Published. I have about four articles published in this issue:

April 5th, 2002- Bojic, Ljubisa, Valentine's Dance, Dim Sum, Easter Newspaper, April 2002, issue 2, 2-3.

April 5th, 2002- Bojic, Ljubisa, Let's relax DSC, Dim Sum, Easter Newspaper, April 2002, issue 2, 5-6.

April 5th, 2002- Bojic, Ljubisa, Black Hawk Down, Dim Sum, Easter Newspaper, April 2002, issue 2, 7.

April 5th, 2002- Bojic, Ljubisa, Filming of Commercial, Dim Sum, Easter Newspaper, April 2002, issue 2, 9.

March 15th, 2002- I was an actor in both TV advertisement and documentary for DSC that was broadcasted on TVB Pearl- Hong Kong's most popular TV.

January 15th, 2002- My website about tennis (DokicJelena.com at http://superjelena.tripod.com ) was proclaimed most interesting by national television's third channel Internet show.

April 25th, 2001- My 5-minute reportage from Hong Kong was shown on Wednesday 9 PM most popular talk show "Do Poslednjeg Daha" (Until last breath) of the most popular television in the country and the region of Balkans- Pink television. The top rated TV show features popular TV show host Mr. Miodrag Popov.
These are just the latest references. If you want to find out more do not hesitate to e-mail me.

Education:
Primary school- Jovan Popovic, Kragujevac, Serbia.

Secondary School- Graduated from Delia School of Canada, Hong Kong. DSC is Hong Kong's top private school. DSC provides Canadian curriculum education thought by top Canadian teachers. In my last year of studies I took Law, Economics, Politics, English, World Issues, Math, Chemistry and Peer Help courses. I also took part in many extra-curricular activities.

University- Taking Media studies at the University of East London, London, UK and Economics at the University of Kragujevac, Serbia.

Gear/equipment/technology:
Though I put emphasis on talent and hard work, I tend to use the cutting-edge equipment. First, I use SONY digital video camera with night vision (model changes through the course of time) to capture videos and photos. Second, I use Sony VAIO R505 laptop or professional non-linear video equipment to edit videos and photos. Except these main tools, I make use of other recording and playing gear. When choosing the technology my main criteria for the product is to be compact, mobile and convenient to use.

Please e-mail me for more detailed information.